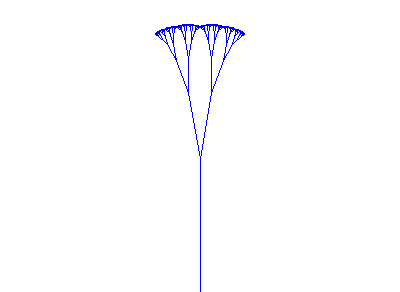 Fractal tree, artist unknown
Fractals are a wonderful way of seeing infinity (as I said before). This lesson in perception is as important as their beauty I think.
Armin Copp is a true master of these mind-bending fractal worlds. Make sure to check his website for more pictures and his youtube channel for animated fractals.
Die hier abgebildeten Fraktale entstammen dem sogenannten Mandelbulb, der erst 2009 von Daniel White und Paul Nylander entwickelt wurde. Er ist die dreidimensionale Weiterentwicklung der berühmten Mandelbrot-Mengen ("Apfelmännchen") aus den 1980er Jahren und den Julia-Mengen aus den 1930ern. Allerdings mit der Einschränkung, dass die Formeln nicht bis ins Unendliche berechenbar sind.

Die bizarren Formen ergeben sich aus der Projektion einer höheren Dimension als den drei räumlichen – ähnlich dem 2dimensionalen Schatten eines 3dimensionalen Gegenstandes. Symbolisch: Man füllt 10 Liter höherdimensionales Wasser in ein 1 Liter-3dimensionales Gefäß, und sieht nur immer einen Teil dieser 10 Liter – aufgrund der unterschiedlichen fraktalen Formeln, die diesen Teilbereich sichtbar machen.

Topologisch sind diese Formen nahezu identisch, lediglich in der fraktalen Dimension, die durch Einrechnung komplexer Zahlen erfolgt, ergeben sich die unendlichen Unterschiede in der Form.

Armin P. Copp